Se a primeira teoria da evolução, Darwinista, encontrou apenas um método evolutivo – o que contem a seleção natural – e depois a teoria neutralista da evolução  apontou que a deriva genética sem a ação da seleção natural tambem produz evolução, agora aparece uma terceira teoria da evolução, a qual e' mencionada no paper PDF a baixo, sugerindo que um fenômeno " homoplasy" tambem pode causar evolução, porem, no nível molecular e em relação a evolução das proteínas. Não e' o caso de três diferentes e auto-confrontantes teorias, mas sim o caso em que uma teoria inicialmente simples, se divide em varios ramos tornando-se mais complexa.
Frequent and Widespread Parallel Evolution of Protein Sequences
http://as.vanderbilt.edu/rokaslab/pdfs/2008_Rokas_Carroll_MBE.pdf
Homoplasies –  A homoplasy is a character shared by a set of species but not present in their common ancestor. A good example is the evolution of the eye which has originated independently in many different species. When this happens it is sometimes called a convergence. Homoplasies can be compared with homologies, which are characters shared by a set of species and are present in their common ancestor.
Note that the above definition of homoplasy is its technical definition used by biologists. A homoplasy has an older, pre-Darwinian meaning of similarity explained by a shared way of life. For example, the wings of insects, birds and bats are all needed for flying: they are homoplasious structures in the non-evolutionary, as well as the evolutionary, sense.
Figure: the wings of birds and bats are homoplasies. They are structurally different: the bird wing is supported by digit number 2, the bat wing by digits 2-5.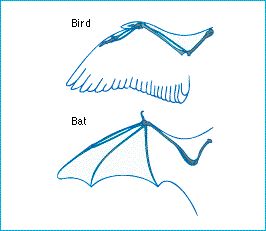 Estudando a Teoria Neutralista da Evolução, que envolve a deriva genética – genetic drift e as aleatórias mudanças de genes alelos.
A Deriva Genética seria um segundo método da evolução que não tem a presença da seleção natural.
Tags: deriva genética, Evolução, homoplasy, molécula, Proteína