xxxxx
America's Epidemic of Empty Churches
https://www.theatlantic.com/ideas/archive/2018/11/what-should-america-do-its-empty-church-buildings/576592/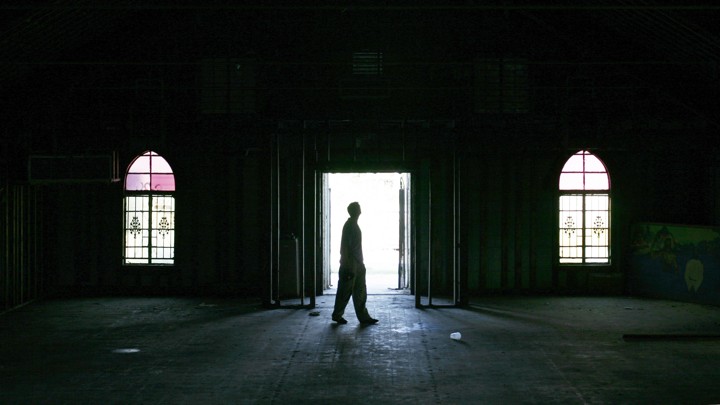 A man walks inside an empty church in the Ninth Ward area in New OrleansCARLOS BARRIA / REUTERS
A cosmovisão da Matrix/DNA indica como um dos objetivos para a Grande Causa Humana é unir as comunidades de populações pobres no trabalho autônomo em forma de sociedades anônimas, seja no cooperativismo na compra e na sociedade na produção. As grandes religiões em declínio estão com o problema dos enormes templos vazios, um grupo religioso esta utilizando estes templos vazios para reunir as pessoas com atividades e econômicas. Penso que a idéia de Deus propagada pela Biblia separa os humanos entre si. Seria preciso atuar na preocupação básica do humano, que é a economia, mas usando como estímulo nao uma ideia abstrata de Deus e sim a mensagem prática de Jesus Cristo, conduzindo pessoas a uma irmandade total. Vamos pesquisar e explorar essa ideia sendo desenvolvida por um grupo de religiosos nos USA que esta' transformando estes templos em locais para workshops e atividades econômicas filantrópicas, para ver o que é possível fazer no Brasil nas comunidades pobres. Este seria também um meio para exorcizar o instinto de presa nestas comunidades.
" Many of our nation's churches can no longer afford to maintain their structures—6,000 to 10,000 churches die each year in America—and that number will likely grow. Though more than 70 percent of our citizens still claim to be Christian, congregational participation is less central to many Americans' faith than it once was. Most denominations are declining as a share of the overall population, and donations to congregations have been falling for decades. Meanwhile, religiously unaffiliated Americans, nicknamed the "nones," are growing as a share of the U.S. population.
As donations and attendance decrease, the cost of maintaining large physical structures that are in use only a few hours a week by a handful of worshippers becomes prohibitive. None of these trends shows signs of slowing, so the United States' struggling congregations face a choice: Start packing or find a creative way to stay afloat.
" the Brooklyn diocese decided to sell the building to developers. Today, the Spire Lofts boasts 40 luxury apartments, with one-bedroom units renting for as much as $4,812 per month. It takes serious cash to make God's house your own, apparently….)
"Years ago, the neighborhood church was the place many in America got together and, along with local schools, was where they got to know their neighbors," Duggins told me. "But this model is no longer relevant for many people, so churches have to think creatively about how to help people encounter others and God in their everyday lives."
the Missional Wisdom Foundation, a 501c(3) that functions as a kind of think tank for "alternative forms of Christian community that makes sense for traditional churches that may be declining."

Missional Wisdom moved into the bottom 15,000 square feet of White Rock's building and got to work. It converted the fellowship hall into a co-working space and transformed Sunday school rooms into a workshop for local artisans, including a florist and a stained-glass-window artist. It formed an economic empowerment center, where the group teaches a local population of African refugees language and business skills. And it finished out the space with a yoga studio and a community dance studio.
xxxxxxxxxxxxxxxxxxx
Pesquisar: Missional Wisdom Foundation  ( MDF)
https://www.missionalwisdom.com/
xxxx
nesta figura e link abaixo, um simples aparato para guardar cordoes e extensoes de fios feito por refugiadas da Africa noespaco onde era uma igreja, coordenado pela MWF. O conjunto e` vendido a U$ 10,00. Ideias semelhantes estimuladas no Brasil, nao daria resultado no sentido de conectar economicamente os pobres?
https://www.missionalwisdom.com/ahadi-store/oilcloth-cord-taco-set-of-3
xxxxx
Neighboring movement makes 'SoCe' a smaller world
https://www.ksn.com/news/local/neighboring-movement-makes-soce-a-smaller-world/1004801213
WICHITA, Kan. (KSNW) – Four people are making the south central, or "SoCe," part of Wichita a friendlier place to live.
Two couples, Matt and Catherine Johnson and Adam and Ashley Barlow-Thompson launched the "Neighboring Movement by SoCe (veja SoCe como non-profit abaixo)" two years ago in their two-square mile section of the city, going from Kellogg, to Washington, to Pawnee to the Arkansas River. The goal? Fostering positive connections among neighbors and building social capital.
"It makes your neighborhood safer, there's less violence. There's less isolation…elderly folks can stay in their home longer without having to get outside care when they know someone's watching out for them. There's mental health benefits. There's studies of less incidents of Alzheimers when people are even just slightly connected in their neighborhood," Catherine Johnson said.
The group runs a blog and provides a neighboring tip each week. It can be something as simple as baking a batch of cookies and taking it to a neighbor'
xxxxx
ESTRATEGIA PARA INICIAR:
We promote neighborliness through the Abundant Community Network, a system of volunteer Block Connectors on every block within the neighborhood.