xxxx
Correlacionar imagens geométricas, ver padrões entre elas, imaginar segredos ocultos nestes padrões é comum entre humanos. Mas pensando bem, se seres extraterrestres e espirituais quisessem comunicar algo a humanos, não tendo alguma forma possível de comunicação direta, poderiam apresentar figuras geométricas como sinais. Os casos de crop circles são notórios. Na mitologia antiga, o hexagrama por exemplo, foi muito mencionado, principalmente porque pode ser feito com dois triângulos superpostos. E o hexagrama é a figura geométrica que melhor representa a fórmula da Matrix/DNA, quando a vemos no seu aspecto de software.
Busquei então numa rápida consulta quais as origens e significados místicos antigos do hexagrama, na esperança de que já tenham tido a mesma intuição que tive. Abaixo alguns exemplos:
A melhor relação mística que encontrei foi nesta filosofia hindu e tibetana. Realmente, se inserirmos os dois triângulos na formula da Matrix/DNA, um triangulo, apontando para baixo, conterá F4 que é o elemento masculino, e outro, apontando para cima, conterá F1, que é o elemento feminino. Meras coincidências?! Ou estados puros ou alterados do cérebro vendo em flashes o registro em sua memória da fórmula template em que ele está assentado e que o criou?
https://en.wikipedia.org/wiki/Hexagram
Within Indic lore, the shape is generally understood to consist of two triangles—one pointed up and the other down—locked in harmonious embrace. The two components are called "Om" and the "Hrim" in Sanskrit, and symbolize man's position between earth and sky. The downward triangle symbolizes Shakti, the sacred embodiment of femininity, and the upward triangle symbolizes Shiva, or Agni Tattva, representing the focused aspects of masculinity. The mystical union of the two triangles represents Creation, occurring through the divine union of male and female. The two locked triangles are also known as 'Shanmukha'—the six-faced, representing the six faces of Shiva & Shakti's progeny Kartikeya. This symbol is also a part of several yantras and has deep significance in Hindu ritual worship and history.
MAGEN DAWID ("David's shield") – O Escudo de Davi
https://jewishencyclopedia.com/articles/10257-magen-dawid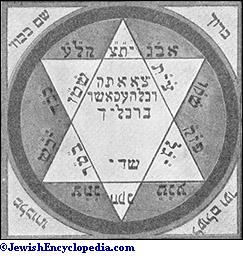 Jewish Encyclopedia:
The hexagram formed by the combination of two equilateral triangles; used as the symbol of Judaism. It is placed upon synagogues, sacred vessels, etc… (….) "Seven names of angels precede the mezuzah: Michael, Gabriel, etc. . . . Tetragrammaton protect thee! And likewise the sign called 'David's shield' is placed beside the name of each angel." It was, therefore, at this time a sign on amulets. (…) In the magic papyri of antiquity, pentagrams, together with stars and other signs, are frequently found on amulets bearing the Jewish names of God—"Sabaoth," "Adonai," "Eloai"—and used to guard against fever and other diseases.
xxxx
O Selo de Salomão – The Seal of Solomon (or Ring of Solomon)
https://en.wikipedia.org/wiki/Seal_of_Solomon
… is the signet ring attributed to King Solomon in medieval Arabic tradition, from which it developed in Islamic and Jewish mysticism and in Western occultism. It is the predecessor of the Star of David, which became the symbol of the Jewish people in modern times.
It was often depicted in either a pentagram or hexagram shape. This ring variously gave Solomon the power to command demons, jinn (genies) and spirits, or to speak with animals. Due to the proverbial wisdom of Solomon, his signet ring, or its supposed design, it came to be seen as an amulet or talisman, or a symbol or character in medieval and Renaissance-era magic, occultism, and alchemy.
xxxxx
Tags: hexagramas