xxxx
Não tem contra-argumento: não aceito um mundo onde tenha violências, torturas, canibalismo biológico contra qualquer das criaturas existentes ( com exceção dos vegetais). Quem defende animais predadores, que seja o primeiro a se oferecer no lugar das outras vitimas. A natureza que produziu esse terror não foi a Natureza Universal e sim as forças do caos em oposição ao Principio da Ordem. E nos cálculos da cosmovisão da Matrix/DNA se revelou a causa, o porque isso aconteceu: na pele de um ancestral, muito remoto, não-biológico, nos cometemos um gravíssimo erro contra a evolução universal, e caímos aqui para recomeçar de baixo, trazendo em nos a malignidade que provocou o erro. Nos teremos que corrigir tudo isso, exorcizar daqui esta malignidade. Não se como vamos obter o planeta fraterno pois teremos que limpa-lo de todo tipo de predador, isso terá que ser muito e cuidadosamente estudado para não torturar/sacrificar os predadores. Para começar, um cientista tem uma boa ideia: " a properly fitted collar and bell could reduce a cat's success when hunting by at least a third."
Artigo popular na BBC News:
Cats are one of the top threats to US wildlife, killing billions of animals each year, a study suggests.
https://www.bbc.com/news/science-environment-21236690
E o scientific paper na Nature:
The impact of free-ranging domestic cats on wildlife of the United States
https://www.nature.com/articles/ncomms2380
The authors estimate they are responsible for the deaths of between 1.4 and 3.7 billion birds and 6.9-20.7 billion mammals annually.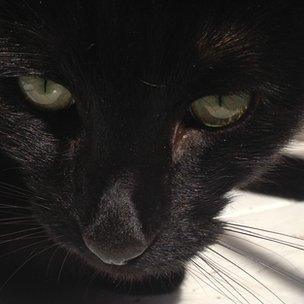 … they have been blamed for the global extinction of 33 species. …
The authors concluded that more animals are dying at the claws of cats in the United States than in road accidents, collisions with buildings or poisonings. The domestic cat's killer instinct has been well documented on many islands around the world…. Birds native to the US, such as the American Robin, were most at risk, and mice, shrews, voles, squirrels and rabbits were the mammals most likely to be killed.
… they said pet cats were still killing significant numbers of animals, and that their owners should do more to limit the impact.
Dr Marra said: "We hope that the large amount of wildlife mortality indicated by our research convinces some cat owners to keep their cats indoors and that it alerts policymakers, wildlife managers and scientists to the large magnitude of wildlife mortality caused by cat predation."
A spokeswoman for the animal welfare charity the RSPCA said that a properly fitted collar and bell could reduce a cat's success when hunting by at least a third.
( continue lendo no link acima)