Os astrônomos discutem a idade do núcleo da Terra e teorias variam desde 4 bilhões de anos a 1,3 bilhão, supondo que a idade do núcleo solido não é a mesma idade do planeta. Este artigo divulga um estudo baseado no ferro liquido que concluiu pelos 1,3 bilhões de anos. Outro assunto interessante tratado aqui é: este planeta é o único do sistema solar que tem vida porque tem uma atmosfera respirável e na superfície não tem radiação. Mas estes predicados existem aqui graças a um outro fenômeno: o campo magnético da Terra. Se não fosse o campo magnético barrar a radiação vinda do Sol acima da atmosfera, esta radiação destruiria esta atmosfera. Mas este é o único planeta do sistema solar que tem campo magnético. Por isso é o único que cria e suporta a vida.
Earth's core is a billion years old
https://www.space.com/earth-core-billion-years-old.html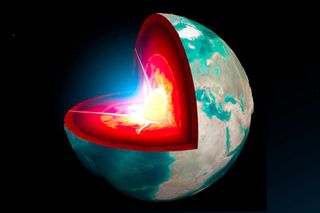 Artigo: Not much is known about the history of this 1,500-mile-wide (2,442 kilometers) iron ball that's the Earth's nucleus. Estimates of its age have ranged from half a billion years to more than 4 billion years, almost as old as 4.5-billion-year-old Earth itself. Now, researchers have squeezed a miniscule piece of iron between two diamonds and blasted it with lasers to arrive at a new estimate of 1 billion to 1.3 billion years old — a date range that coincides with a measurable strengthening of the Earth's magnetic field that happened around the same time.
Matrix/DNA: Mas o que é 1,3 bilhão de anos, a substancia do núcleo ou o estado físico desta substancia – se solida. liquida? Eu não posso me arriscar a opinar porque não sei se esta galaxia e este sistema estelar é de primeira ou segunda geração, pois existiram dois processos diferentes de formação destes sistemas, assim como o sistema celular teve como primeiro processo a simbiose e depois disso aprendeu a se reproduzir… no caso dos sistemas astronômicos aprenderam a se reproduzirem auto-reciclando-se. Creio que no sistema celular a simbiose na formação das células modernas manteve-se encoberta: a partir das proteínas produzidas pelo DNA/RNA as organelas são produzidas numa sequencia e esta é a mesma sequencia do ciclo vital da primeira geração quando as organelas foram geradas fora da célula. Então a logica aconselha que na formação dos sistemas astronômicos modernos deve estar encoberto o processo da primeira geração, o qual está explicitado na formula Matrix/DNA.
E sugere esta teoria da primeira formação que os núcleos dos planetas são formados antes dos planetas, no estado liquido, depois são congelados tornando-se sólidos e depois voltam a serem líquidos, sempre variando pela variação da temperatura externa. Mas esta sequencia e esta variação é sugerida também quando aplicamos outro método de construção do nosso modelo teórico, o qual consiste em verificar o que este sistema astronomico produziu aqui quando criou os sistemas biológicos para calcular como teria sido a formação destes sistemas astronômicos, pois a ideia é que sistemas só sabem gerar outros sistemas pelo mesmo método que eles próprios foram gerados.
E o método para gerar i sistema biológico vegetal, que veio primeiro do que a célula animal, portanto sento mais fiel ao método do ancestral, começa pela formação da semente, que corresponde ao núcleo dos astros e ditas sementes de novas estrelas. pensamos como exemplo uma semente de milho. Ela é feita sob alta temperatura exposta ao sol, depois é esfriada quando inserida na terra, e depois volta a esquentar quando recebe novamente a energia solar pela água e o solo, quando então cresce e brota. Assim deve acontecer no aspecto astronomico quando desabrocha uma nova estrela. Não é por acaso que vindo por dois caminhos diferentes, dois métodos diferentes, chegamos um mesmo resultado: porque seja no processo de primeira geração, no processo da segunda, e no caso da semente vegetal, em todos os três casos a formula construtora é a mesma.
Artigo: Modern Earth is like a layer cake, with a solid outer crust, a hot, viscous mantle, a liquid outer core and a solid inner core. That solid inner core is growing slowly as the liquid iron in the core cools and crystallizes. This process helps power the churning motion of the liquid outer core, which in turn creates the magnetic field that surrounds Earth and helps protect the planet from harmful cosmic radiation. ( leia mais no link acima)