This is intriguing from a geological perspective because it means the void is larger than most caves on Earth, according to the LPL.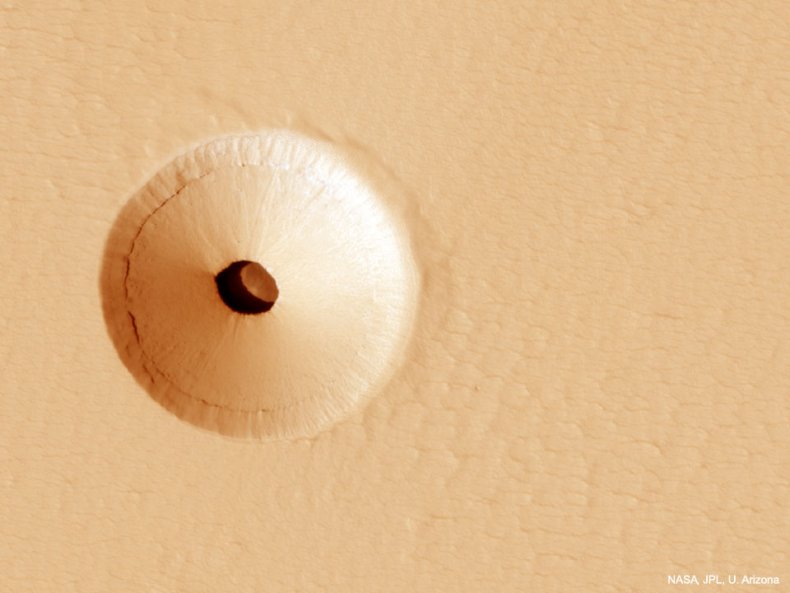 Pulsar´s volcanoes? Exemplo de vulcões dos pulsares?
Está sendo sugerido pela Matrix/DNA formula que depois que um planeta começa a se transformar em pulsar, emerge vulcões em toda sua superfície e estes vulcões tendem a se tornarem cada vez maiores, quando então ejectam lavas e magma com tanta força que ultrapassam a órbita planetária e caem no espaço sideral, adotando a forma de cometas. Esta figura sugere como é um dos estagios de crescimento dos vulcões. mais uma evidencia para a Matrix/DNA Theory.
Qual a importância em saber disto? Uma das importâncias é que neste mecanismo está encriptado os primordios do fenomeno biologico a que denominamos reprodução sexual. A imagem mostra como era a forma da genitalia masculina nos sistemas termodinámicos astronómicos, nosso ancestrais. E este conhecimento amplia nossa capacidade para corrigir e curar as anomalias no sistema reprodutor humano.
NASA REVEALS BIZARRE PICTURE OF MYSTERIOUS HOLE ON SLOPES OF MASSIVE MARTIAN VOLCANO
BY ARISTOS GEORGIOU ON 3/4/20 AT 6:45 AM EST
https://www.newsweek.com/nasa-bizarre-mystery-hole-mars-volcano-1490432
NASA has posted an image of an unusual hole on the slopes of a giant Martian volcano known as Pavonis Mons.
In the photo,which was snapped in 2011 by the space agency's Mars Reconnaissance Orbiter (MRO), a circular crater can be seen with very steep walls. At the center of this crater is an opening measuring around 115 feet across, which is the entrance to an underground cavern.
Meus comentarios publicados na midia:
https://www.newsweek.com/nasa-bizarre-mystery-hole-mars-volcano-1490432
My theoretical astronomical model has predicted the existence of such big volcanoes at astronomical bodies 30 years ago. When any planet gets older, its surface is populated by volcanoes which becomes bigger thil the point of ejaculating magma to sidereal space. This magma becomes comets. See " The Universal formula Matrix/DNA for all natural systems" and how the formula predicted it…