xxxx
Apesar do problema das "duas gerações de galaxias", meu modelo astronomico difere do modelo oficial acadêmico sobre as origens de supernovas. Nunca ninguém assistiu tal evento mostrando que eles também tem apenas teoria e não fato comprovado. Agora aparece esta foto, mas como os próprios cientistas dizem " trata-se da explosão de luz no nascimento de uma supernova". Ora, foi visto uma explosão de luz, e meus modelos sugerem que esta explosão de luz acontece, porem emitida pelo que era um astro escuro que se colapsa sobre seu luminoso energético núcleo liberando a sua luz ao espaço. meus comentários postados no artigo e copiados abaixo dizem mais.
Segundo, a teroia academica desconhece os mecanismos que levam a estas explosoes, como diz o paper da folto na Nature:
" However, the unpredictable nature of supernova events hinders the detection of this brief initial phase7,8,9. Here we report the serendipitous discovery of a newly born, normal type IIb supernova (SN 2016gkg)10, which reveals a rapid brightening at optical wavelengths of about 40 magnitudes per day. The very frequent sampling of the observations allowed us to study in detail the outermost structure of the progenitor of the supernova and the physics of the emergence of the shock. We develop hydrodynamical models of the explosion that naturally account for the complete evolution of the supernova over distinct phases regulated by different physical processes. This result suggests that it is appropriate to decouple the treatment of the shock propagation from the unknown mechanism that triggers the explosion."
 xxxxx
A foto obtida pelo astronomo amador argentino: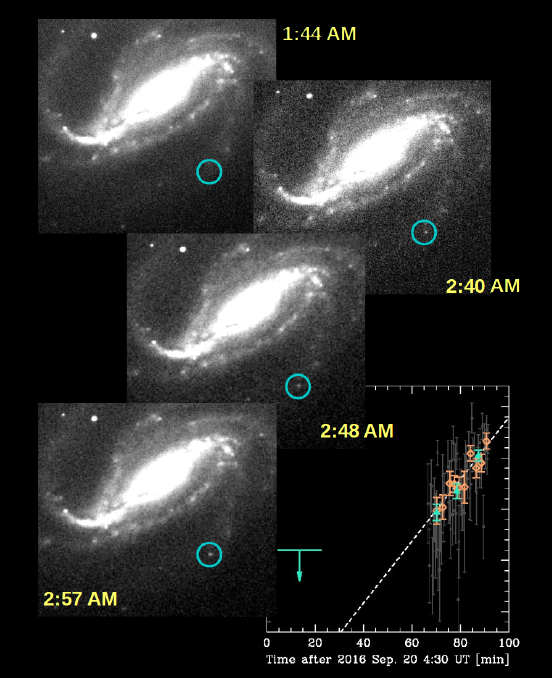 xxxxx
Neste video tem uma animacao artistica montada com fotos pelo Kepler, de uma red giant tornando-se supernova:
Aqui esta a descricao da teoria academica pela NASA a resp;eito do video:
xxxxxxx
First ever photo of exploding star, UC Berkeley confirms
E meu comentário postado no artigo:
Austriak727 – em 2/23/18
" It is not an explosion, but a implosion, the structure collapses inward into itself"Well,… this is what is suggesting the astronomical models from Matrix/DNA Theory. I think that nobody can prove who is right and wrong, because the suggestion that it is an explosion is based on theory also, there are no enough data for saying it is a proved fact. I prefer Matrix/DNA Theory because its models suggests a better explanation: the astro's nucleus is growing by "eating" the external geologic layers and when arrives to the last one, it collapses and the luminous nucleus florishes as a star….
Resposta de alguem:
ololo3 –  em 2/23/18 
@austriak727 Well, his photo is definitely something exploding.
 Minha resposta a @ololo3:
Austriak727 em 2/23/18
@ololo3 Yes, it could be, in theory. As says the article: "… to scientists at UC Berkeley, who confirmed he was the only known person to ever take a photo of the flash of light produced by an exploding star."It is an explosion of light, not seen if it was an explosion of a dark astro. The model from Matrix/DNA suggests that a non visible dark astro has a luminous nucleus that is growing by "eating" the external rock layers and when arrives to the last external one, everything collapses internally (implosion) and the light from the nucleus flourishes in a flash. So, the very known fact we see here when a corn seed has a germ eating the yellow external placenta and when the germe meets the star light it flourishes… is merely a sequitur of a mechanism that happens to our astronomic systems ancestors. If not, you need a big exercise for explaining how the stupid matter of this planet invented the extraordinary engeneery for the birth of a flower… But, I could be wrong..
Entao ololo3 fez o comentario seguinte sobre o qual tenho uma observacao: Ele comete um erro muito suspeito, trocando astronomia por astrologia. Isto pode sugerir que e' mais um cientificista fundamentalista que reage na Internet a tudo que ele considera "pseudociencia", e reage com malicia. Nao acredito que ele nada entende de astronomia, p;ois nao estaria lendo este artigo sobre uma futil noticia de astronomia.
ololo3 em 2/23/18
@austriak727 Well, you definitely seem to know WAY more about astrology than me, so I certainly can't argue with you. You talk the talk, that's for sure. I wish I would have learned about astrology when I was younger. For some reason, the universe didn't interest me as much as stuff that ended up becoming TOTALLY pointless when I grew up. I suppose it's never too late, though. I should look into some college classes on this kind of stuff.
E minha imediata resposta para esclarecer as coisas:
Austriak727 em 2/23/18
@ololo3 – I don't know anything about "astrology" and I do not believe in it. This issue is about "astronomy". I am like you, not an astronomer, but I had read every news about astronomy because after reading Matrix/DNA Theory the sky became very interesting and important for explaining life at Earth. The official academic theory offers no explanation and no solid bases for life being produced by their astronomical model. But, as I said, we are still talking about theories, not proved facts. The supernova birth is based on theories.
sonomarik – em 2/23/18
WOW, what I find interesting about this and I'm no huge fan of astronomy is that the chance picture lasted for such a short time. That star's explosion I would figure to have exhibited remains for decades…but, snuff. out. that's fast under any circumstance.
 Austriak727 em 2/23/18 em resposta a sonomarik:
@sonomarik Yes, I also think that any cosmic event would take lots of human scale of time. Yours observation is a good one, it is laking the remains. I think that the unique cosmic event that can happen in short time must be related to light, not matter. So, if you read my comments below, I am remembering that theire is another theory saying that this is not an explosion of astronomical astro, and so, a explosion of light due the implosion of a dark astro with an energetic luminous nucleus. I think that this photo can be interpretated in two ways.
xxxxxxx
Comentario postado em outros websites noticiando o assunto: